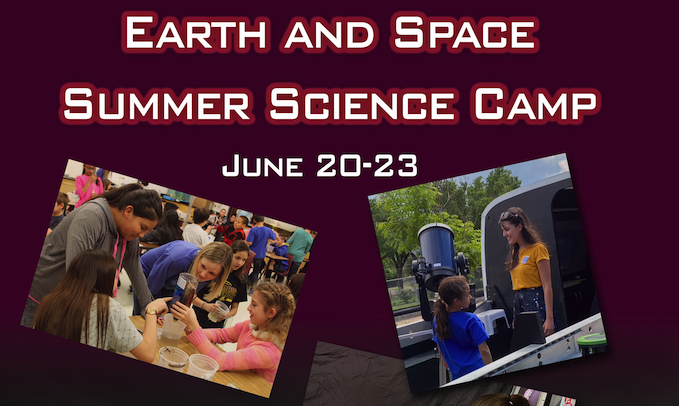 Who: Students entering 4th-8th grade interested in science (attendance limited to 24 students grades 4-5, 24 students grades 6-8)
What: Earth and Space Science Summer Camp
The Mobile Earth and Space Observatory will be hosting its first annual camp this summer to give kids entering grades 4-8th unique opportunities to experience science like never before! Subjects covered include: electricity and magnetism; renewable energy; waves and oscillations; water science; the science of light and color; optics and imaging; and so much more! Join us June 20th - 23rd at Concrete Coyote to explore science with our dedicated team of science educators.
When: June 20th-23rd, grades 4-5 from 8:30am - 11:30am, grades 6-8 from 1:30pm - 4:30pm
Where: Concrete Couch's Concrete Coyote campus located at 1100 South Royer Street, Colorado Springs, CO 80903
Drop off and Pick up times: Grades 4-5 can be dropped off between 8:00am - 8:30am and picked up between 11:30am - noon. Grades 6-8 can be dropped off between 1:00pm - 1:30pm and picked up between 4:30pm - 5:00pm .
Cost: $250/student ($50 discount for every additional child from a single family). $125 scholarships available for qualifying students.
Additional Information: Participants should bring water, weather appropriate clothing, and sunscreen for working outdoors in the sun. Snacks and beverages will be provided.